North Central Kansas Astronomical Society
Home | Carbon Stars | Double Stars | Galaxies | Globular Clusters | Nebulae | Open Clusters
Solar System | Stars | Images | Asterisms | Student Images | Current Weather
---
Comet 9P/Tempel and Deep Impact encounter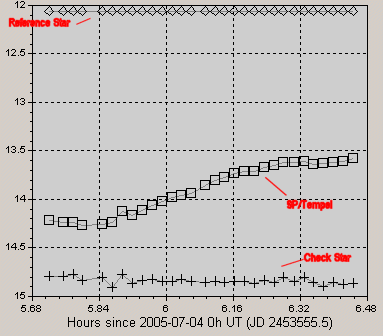 This is a Photometric Plot of the data we obtained last night. Clearly visible after the first 6 points (squares) is the brightening of the comet. This illustrates the immense value of Photometry. This increase would not have been noticeable visually at all, and indeed is not visible in the animation below to a large extent. The sharp peak at point 7 is most likely due to atmospheric conditions, not the actual impact. If you look closely, the Check Star exhibits this peak too. However, after that point, the comet steadily increased in brightness until we lost it on the horizon. All images and data were taken on a remote telescope at New Mexico Skies in southern New Mexico.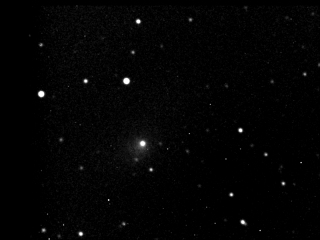 Here is an animation of the series of images. Click here for a 5MB larger version.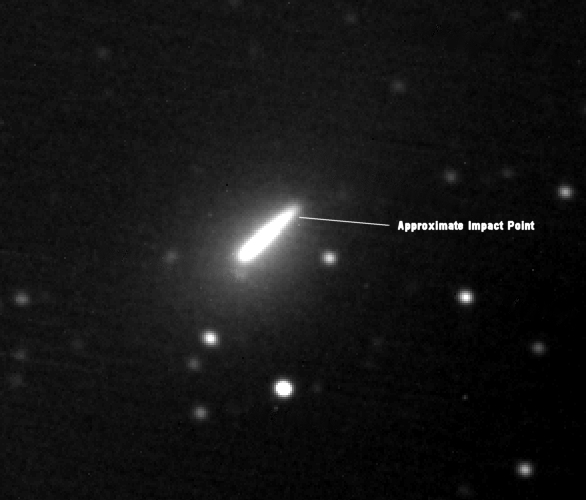 This image is a stack of the images we took unaligned. This technique reveals the subtle brightening after the impact. Reports of the overall brightening was around 2 magnitudes or roughly about 5 times as bright. You can use the conveniently placed stars down and to the right of the comet streak to judge the brightening.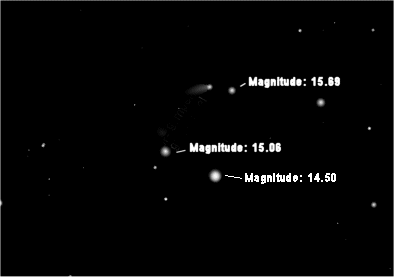 This Astrometry solution is from Software Bisque The SkyŠ and corresponds pretty closely to the Photometric brightening solution we imaged above
---
Home | Carbon Stars | Double Stars | Galaxies | Globular Clusters | Nebulae | Open Clusters
Solar System | Stars | Images | Asterisms | Student Images | Current Weather
© 2005-2022 North Central Kansas Astronomical Society - All Rights Reserved